Pontoonworks
Setting the standards
We are the only pontoon provider with CSCS Skilled Worker accreditation.
Commercial Hire
We are specialists in providing pontoon working platforms for safe access over water. We have an outstanding track record of excellence, innovation and safety as a sub-contractor for many of the UK's leading construction and civil engineering companies. Whatever the challenge, we will get you to work quickly and safely.
Commercial Hire
Event Hire
Whatever your event, we will work with you to provide the best floating solution.  We have a wide range of experience across events and have floated fashion catwalks, weddings, sporting events, festival stages and promotional platforms.
Event Hire
Technical
Our pontoon is manufactured to the highest standards from lupolen, a blown moulded plastic that will not rot, splinter or corrode.  Each installation is designed and constructed by our fully qualified installers and carries stability documentation to ensure the safest solutions for our clients.
Technical
"Site access was a huge problem until we'd consulted Pontoonworks.  They were responsible for delivering every aspect of the project to site and they did it with such professionalism and understanding of the water course we knew we'd chosen the right partner for the job."
"We sub-contracted Pontoonworks to work with us on a large UXO survey task at a proposed bridge site in Kent. They were at all times extremely professional and delivered an excellent service throughout the 4 week project. Support from the project and site staff was first rate with really good communications from start to finish. We would have no hesitation in using Pontoonworks again in future marine UXO projects."
Engineering Manager, Geotechnical
"Massive thanks for all of the team at Pontoonworks for changing and challenging the way we've done things and allowing for a much quicker repair – all whilst maintaining a brilliant element of safety for my team."
Asset Planning Manager, Water
"We have been working with Pontoonworks for over 12 years and they have continued to deliver excellence on each job."
Associate Director, Geotechnical
"Pontoonworks delivered an amazing service, saving us time and money."
Area Asset Maintenance and Repair Manager, Water
"We hadn't thought about how good our Pontoonworks pontoon was until we realised it hadn't been touched or services for 17 years."
"We were very pleased to work with Pontoonworks. Very professional and attentive to detail assisting with high profile projects."
"We were very pleased to work with Pontoonworks. Very professional we are confident in their promise to deliver the safest working platforms for our subcontractors."
"Pontoonworks are really key in providing a service for us in order to repair and maintain our key assets.  They are incredibly responsive and always do their best to help in an emergency, something incredibly useful when working in a key utilities sector."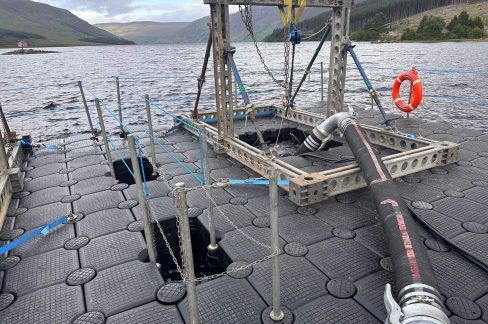 Pump Platform Pontoon
Modular Pontoon pump platform delivering an efficient solution to for Scottish Water.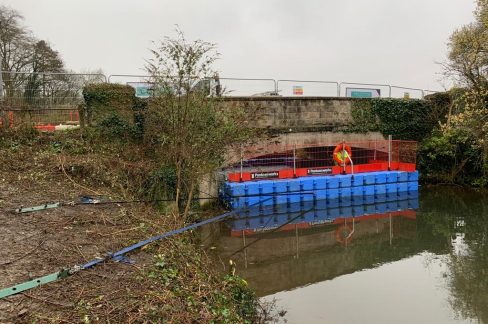 Bridge Refurbishment
See how Pontoonworks helped provide access to replace the deck on Tunbrige, a 100 year old road bridge on the River Itchen in Hampshire.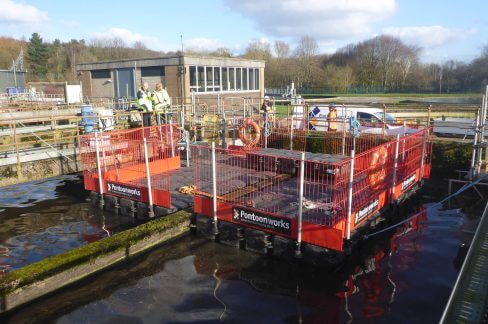 Water Industry Newsletter
If vegetation is undermining your assets, we can deliver the best access method to deal with the problem.
With over 20 years experience delivering innovative floating solutions for projects across many industries we guarantee our clients will receive the safest, most professional service available in the UK.  We've been leading the way in our industry, setting standards for safety, innovating and continuously improving our offering and raising the standards expected by the construction and civil engineering sectors.  We invest in our teams, each individual qualified to cover all requirements, ensuring that from initial enquiry to installation through to removal we deliver the best experience possible.
If you have a project we can help you with, look no further, get in touch.