Services for
Access
Modular pontoon is perfect for providing access for pedestrians and vehicles across all bodies of water.  Linking a worksite from one side of a river to another can significantly reduce the length of a project and the impact on the environment. Pedestrian access includes tow path diversion for the public and walk to work for personnel.  Pontoon bridges for plant provide safe stable access for moving equipment on site and space for welfare. We have also mobilised at the drop of a hat to install access pontoon following severe flooding.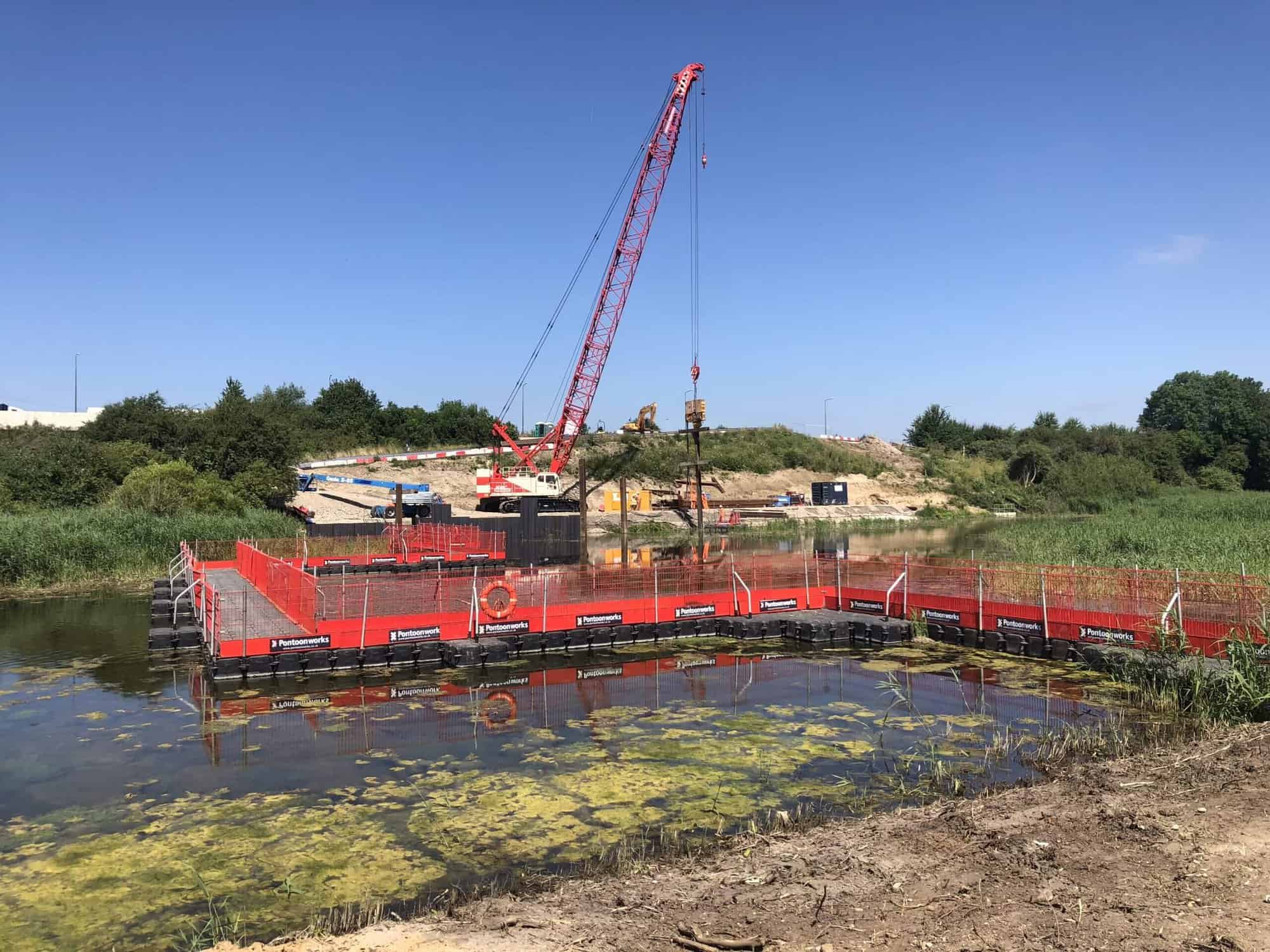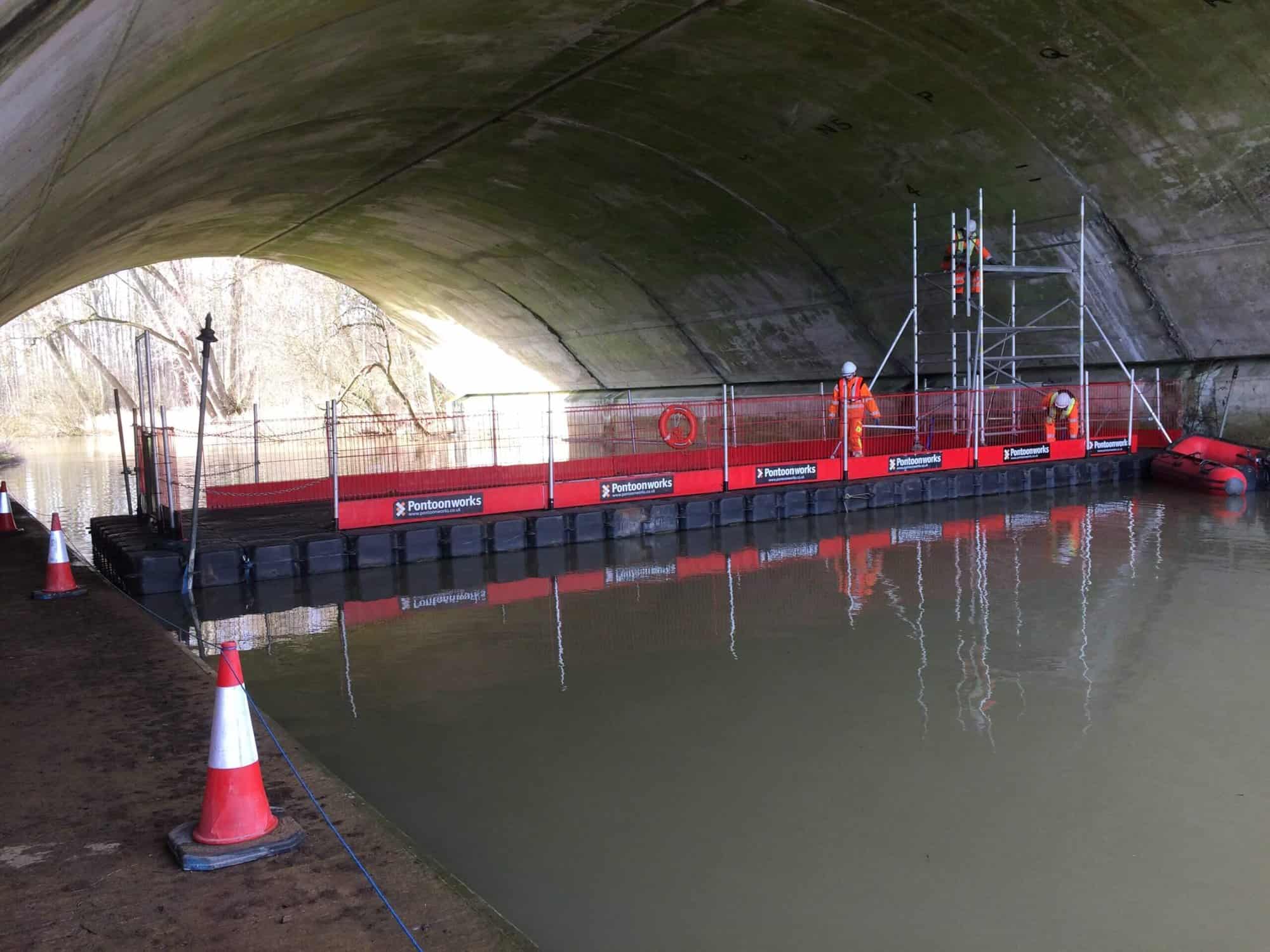 Services for
Bridges
We provide stable working platforms for all types of bridge works, from scaffold platforms for inspections, working platforms, fall arrests and materials barges for major renovations. Our experience of working new bridge constructions starting with early geotechnical explorations right the way to direct access for piling is abundant.  The versatility of modular pontoon and our expertise ensures a bespoke design can be delivered to suit any bridge project whatever the size.
Services for
Geotechnical
We have a long track record of working with geotechnical clients, engineering solutions to float a variety of rigs in different bodies of water.  One constant in our work is our attention to detail to ensure that we offer the safest service. At Pontoonworks we strive to stay ahead in our sector, we always undertake a comprehensive assessment of each project and if required we arrange a pre-quote site visit to ensure we can work to a detailed stablility document factoring in every aspect of the job.  This level of professionalism allows us to deliver the safest bespoke solutions to our clients and their contractors.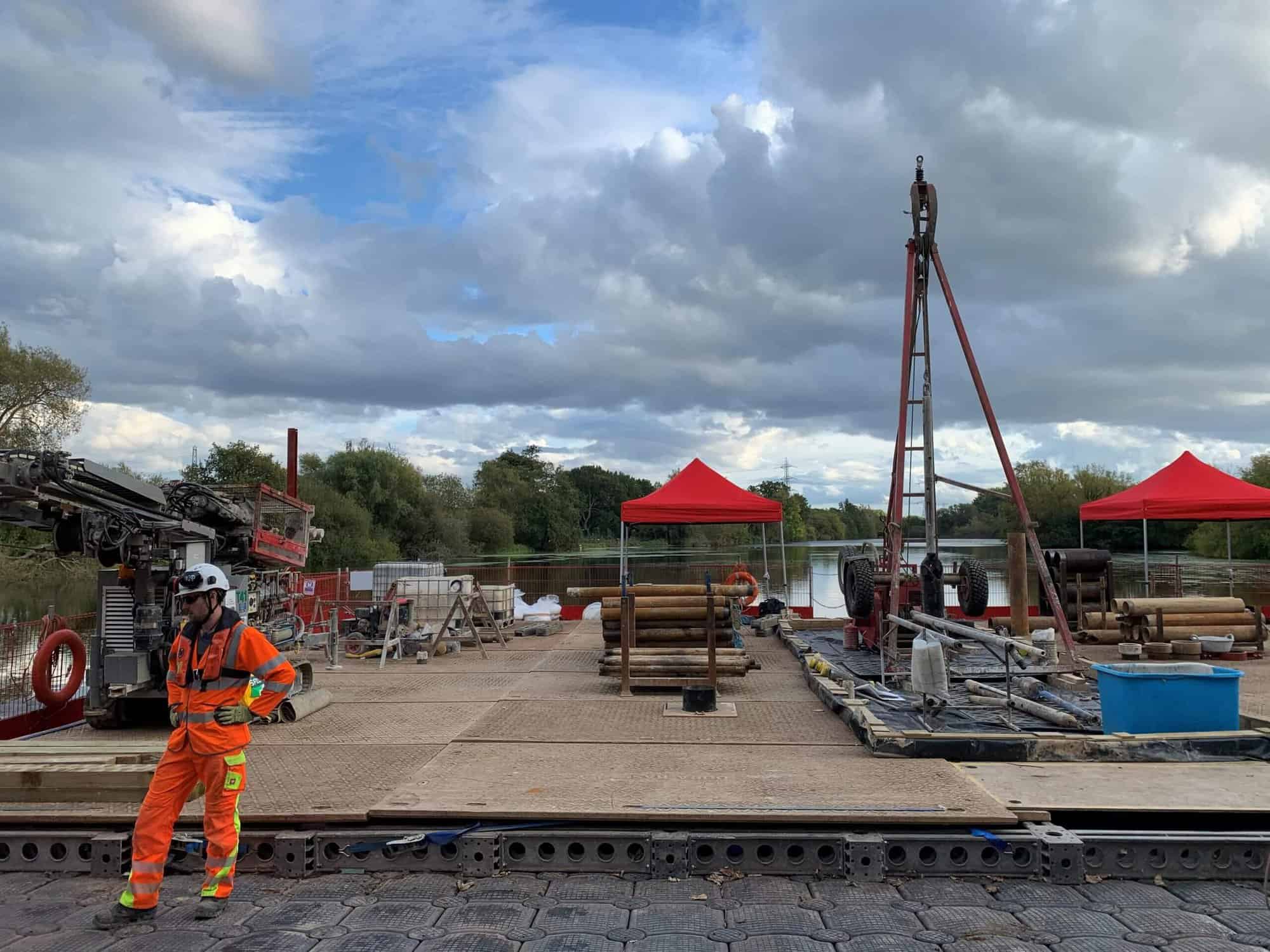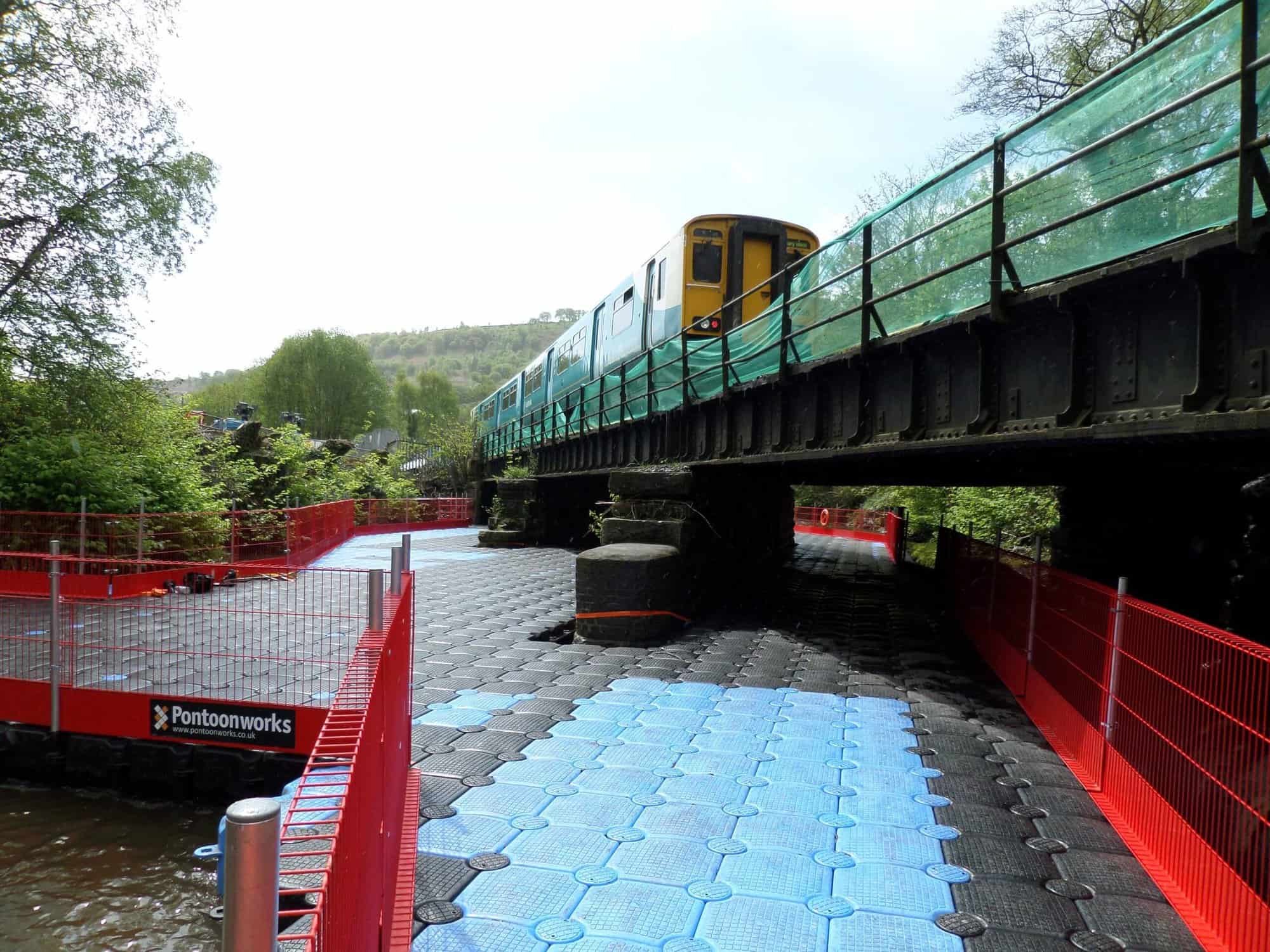 Services for
Rail
Accessing rail bridges for routine inspections through to major repairs can be simple and cost effective with modular pontoon.   There is often no need to take out a possession order when working from the pontoon enabling both a continual rail service and uninterrupted works. Scaffold towers can be added and fixed securely to our specially adapted pins and the working platform provides both debris fall arrest and materials storage.
Services for
Water
We have developed a valued reputation with a number of UK water companies to change the way they are maintaining their assets.  From wastewater circular settlement tanks through to clean water indoor clarification tanks we have years of experience delivering working platforms and access gangways to facilitate routine maintenance and emergency works across the entire water sector. Draining and scaffolding is a method that has proved costly and time consuming, but with our bespoke floating solutions, contractors can be working within 2 hours of our arrival often without the need to decommission the asset.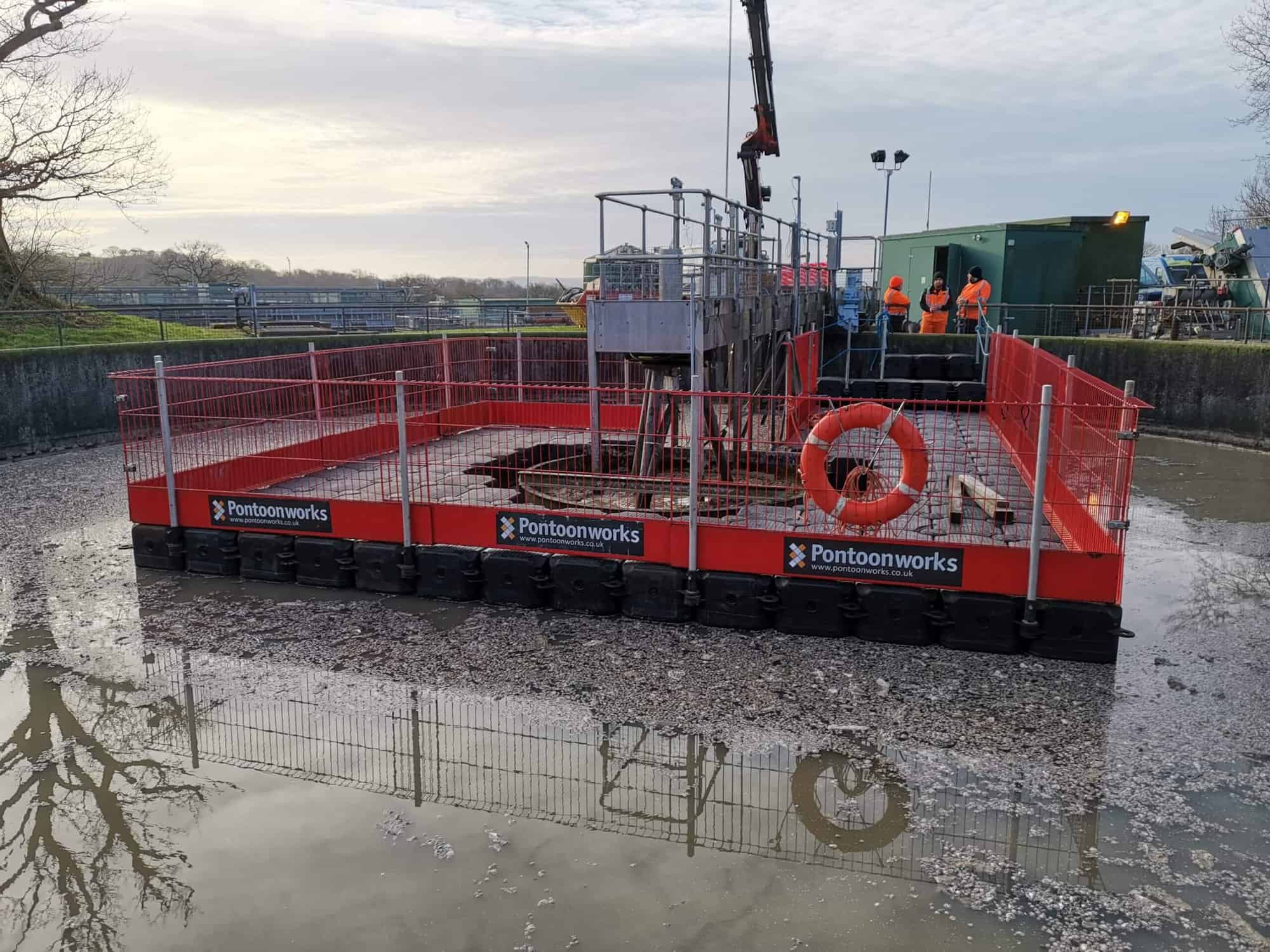 Suitable for
a wide range of commercial uses
Floating walkways and bridges
Floating scaffold platforms
Pontoons for shore access
Bridge surveys and inspections
Pontoons for canal towpaths
Pontoons for marshland and reed-beds
Bridge repair and maintenance
Pontoons for geotechnical
Get
In Touch
If you have a project that you'd like to discuss we'd love to hear from you. Our operations team are ready to take your call or respond to your email.