Pontoon Hire Specialists
delivering floating drilling platforms
We have been facilitating ground investigation works all around the UK for almost 20 years with our pontoon drilling barges. Our solutions range from a simple single deck modular installation through to double decked barges with structural steels and for much larger and heavier rigs, we also offer steel pontoons.
With the installation of any type of pontoon understanding the dangers associated with working on water is key, but adding a drilling rig it is vital that the platform is designed to accommodate the changing load. As such we make it our business to deliver the highest level of service to our clients. Our technical knowledge has developed over the last 20 years to accommodate changes to health and safety, ensuring we stay ahead of our competition to deliver the very safest working environment for all concerned.
Comprehensive
Stability Documentation
Each of our installations is supported by comprehensive stability documentation which we have developed with specialists Ramboll. The inclusion of this helps us to guarantee every stakeholder in a project understands the capacity of their floating worksite. Our team of installers are the most qualified, all with CSCS Skilled Worker cards, the only personnel trained to that level in the UK.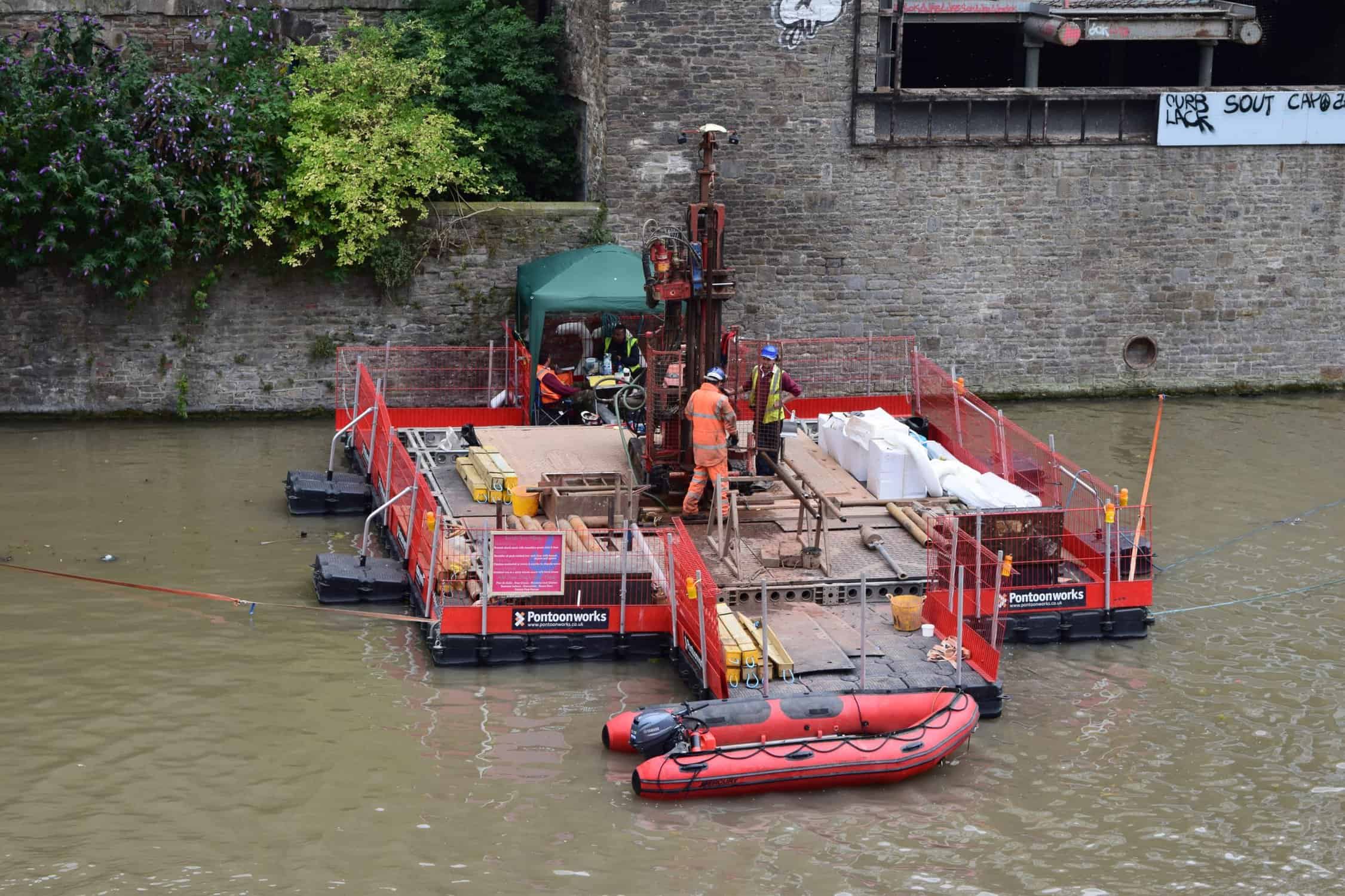 Unparalleled
Innovation
Each of our modular pontoon barges are constructed to facilitate a variety of different types of sampling, we incorporate small and large moonpools depending on the size and type of the rig and sampling required. They are all manoeuvred into place by one of our workboats, piloted by our RYA qualified personnel.
Our experience in this sector gives us an unparalleled ability to provide the safest and most professional solutions for our clients. We have undertaken works for UXO investigation.
For precision drilling we recently designed and manufactured a unique spud leg system which can be incorporated into any of our modular pontoon installations and can be used to anchor the drilling platform in place.   The legs are easily lifted and the platform quickly relocated to a new position where the legs are once again lowered. All of our personnel are fully trained in the use of every aspect of their work, including Spud Leg Training.
We have a loyal client base who benefit from our expertise in this particular sector and our ongoing commitment to developing and innovating this  service.
We can support you
with all of the following
If you are Site Investigation Specialists and are working on or around water
Contact us to find out more about our service. Our Operations Team are available on [email protected] or if you'd like to speak with someone call us on 01935 814950.